Fire Prevention for Your Home
8/25/2022 (Permalink)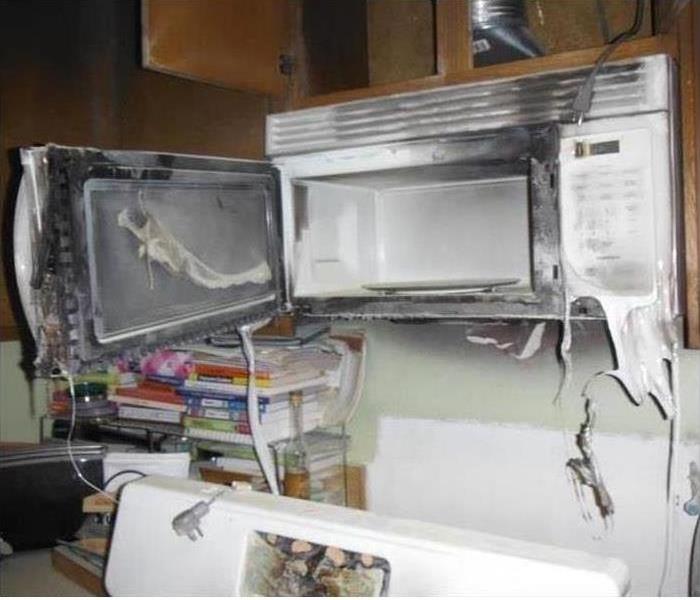 Damage happens so quickly! Flames from the oven began to melt this microwave, spreading the awful smell of burnt plastic throughout the home.
Each year fires cause hundreds of millions of dollars in damages. Please keep your family safe by reviewing with them a few of the ways that we as a fire cleanup company have seen home fires begin:
Do not overload electrical outlets, this is SUPER DANGEROUS!
Do not leave empty plastic home fragrance plug-in cartridges in outlets
Avoid burning candles, but if used, keep under close watch, NEVER leave unintended
Keep candles and lights away from combustible materials like paper, fabric, near walls, picture frames, etc.
Before leaving for the day, going to bed at night, or leaving a room, turn off and unplug all lamps, fans, chargers, and electrical appliances
Do not charge phones, tablets, or laptops on soft surfaces like carpets, beds, sofas, etc. Nor on wood tables, it's just a BIG No.
When operating a microwave never use paper goods, fabric, or metal inside it
If cooking food on the stovetop or in the oven, do not leave it unattended, leave, nor take a nap
Utilizing Fire & Safety Tips aims to prevent a fire from ever starting in your home. However, accidents do at times occur so please take the time to test your smoke alarms and remember to test annually and replace them every 10 years.
If smoke damage does affect your property, call SERVPRO of West Covina a team you can trust.