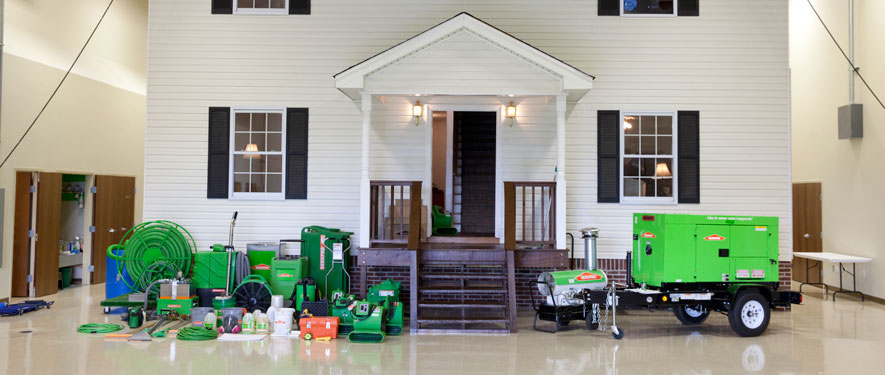 Advanced Technology and Techniques
'Restoring vs. replacing'. Years ago if your property flooded with water from either bacteria laden water such as a sewage backup OR a clean water source such as a water pipe from behind the wall rupturing in a kitchen or bathroom, everything saturated would have been demolished. This was super costly because after materials were removed, replacing all materials was the next step of the process. Walls were repaired, new flooring installed, then new baseboards went in. Replacing was costly! The costs related to replacing caught the attention of insurance companies and frustrated homeowners alike. Adjustments were called for and as research continued to improve advancements were made.
The past few decades have seen rapid advancements in the technology and techniques used in the restoration industry. These advancements allow SERVPRO of West Covina Professionals to restore a property back to preloss condition quickly, reliably, and more effectively whenever the source of the damages stem from a clean water source and categorized as such.
The Institute of Inspection Cleaning and Restoration Certification (IICRC) sets practical standards for restoration and cleaning. The IICRC S500 Water Damage Guide is a specific set of practical standards that incorporate the field of psychometry, which involves the manipulation of temperature and relative humidity to remove moisture and dry a property quickly and effectively. Bottom line? Restoring saves MONEY. And, restoring saves on total down time. Restoring results in much happier property owners, happy insurance companies and it is a win win.
Moisture Detection and Measurement Equipment
Scientific drying principles rely upon specialized equipment to detect, measure, and monitor a property's moisture levels. Recent advances, like infrared cameras, can help us detect water through a wall, ceiling, or floor.
An infrared camera may be used to identify water location for thorough water removal.
Sensitive moisture detectors, hygrometers, and other meters measure the extent of moisture saturation
Water Extraction Equipment
Powerful extraction equipment speeds the drying process by removing the bulk of the water from your home or business.
Submersible and gas-powered pumps for continuous pumping of high-level water. 
Truck-mounted and portable extraction units perform efficient water removal.
Drying Equipment
Industrial strength air movers and dehumidifiers are needed to remove the remaining moisture from ceiling, walls, and floors of your home or business. Proper drying helps to prevent swelling and warping of floors, walls, and furniture.
High-speed air movers causes moisture to evaporate at a faster pace
Industrial grade dehumidifiers pull the water vapor from the air.
Odor Removal and Deodorization
Water and fire damage often causes powerful odors. The machines we use remove airborne contaminants and control the air quality during the restoration and cleanup process.
Air scrubbers
Thermal foggers and deodorization agents
Sanitizing Agents, Germicides, and Anti-Microbial Treatments
The use of OSHA-approved cleaning agents may be needed to clean and remove odors and/or contaminants on your property.
Deodorization products control odors from excessive moisture.
Disinfection products stop the growth of bacteria, fungi, mildew, and other harmful microorganisms.