Typical Water Damage Issues that can occur at Work
5/12/2022 (Permalink)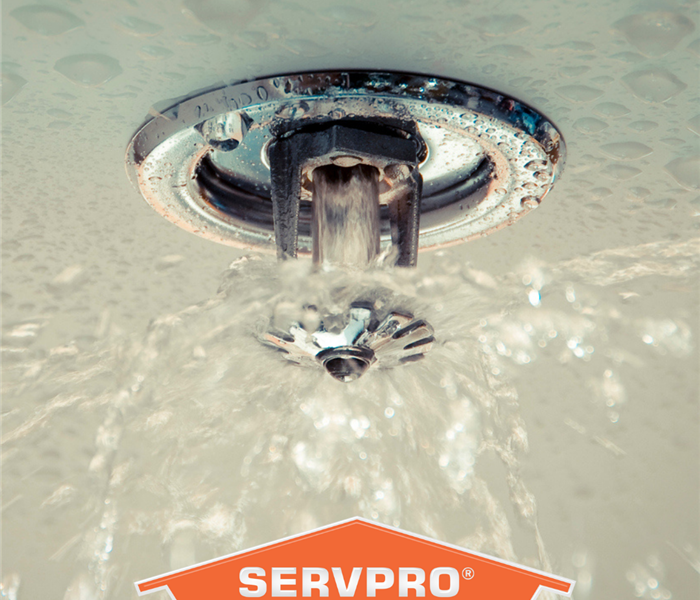 For around-the-clock emergency property assistance call on the trusted SERVPRO name with a team who cares about helping restore everything quickly.
Water is highly valued as it is life-sustaining. Despite all its benefits, water's impact on, around, or in a structure can be destructive when building materials and dark crevices get wet that should not be. Moisture that remains on paper, wood, or other organic materials can within hours develop mold so acting quickly when water damage is discovered is the wisest choice. Preventing water damage takes continual effort and regular maintenance but even still accidents happen. By doing what you can, the chances of avoidable circumstances are lessened. The following are scenarios to be mindful of:
Overhead sprinkler system – Intended to save both lives and properties in a fire situation, these sprinkler systems have water under pressure for when an emergency occurs. Over time pinhole leaks or a malfunction can unfortunately arise. Computers, monitors, and other electronic devices can be adversely affected if it rains indoors.
Plumbing problems – Any (even brand new) plumbing fixture, water supply line (which is constantly under pressure), pipe, or loose-fitting has the potential to leak, or sudden rupture. Indoor and outdoor drains when clogged by soil, debris, objects, hair, grease, or sanitary products can cause backups too. If the leak is inside a cabinet, under an appliance, behind furniture, under a rug, in an inconspicuous area, or located in a room or part of a room not often used, it may go unnoticed until mold becomes visible.
Surface water intrusion – Severe weather from storms, forceful winds, or exterior water pipes can lead to flash floods. Groundwater may contain harmful bacteria that if left untreated will smell positively awful in just a few hours to days.
Roof or ceiling leaks – A dripping, paint bubbling, or new water-stained ceiling are all indicators of water intrusion. Temporary tarping and roof repairs may be needed as soon as possible.
AC or HVAC condensation or leaks – Condensation is a natural occurrence and each AC unit is equipped with a drip tray. If it becomes clogged or damaged an issue can occur. Also, newly installed units can begin having issues if a mistake was made.
Clogged gutters – Even newly installed rain gutters intended to keep rain swept away can cause water intrusion. When a clog occurs from dried leaves or debris, exterior/interior walls, ceilings, and/or floors can become soaked.
Water heater leaks –Old, improperly installed, or un-maintenanced water heaters increase the odds of an eventual leak. Hot water leaks that affect building materials and are not promptly addressed can rapidly develop mold due to the warmer temperatures.
If your business experiences any of these issues a quick response will keep damages minimized. Call now for immediate assistance. 626-960-9145