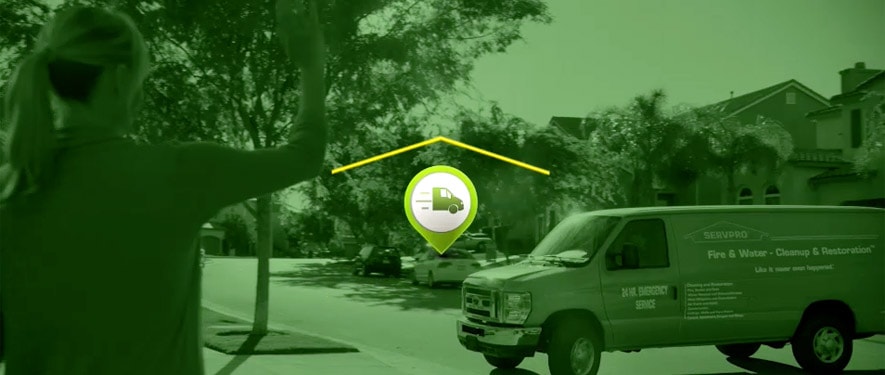 Faster To Any Size Disaster
24 Hour Emergency Service
NEWS ALERT: SERVPRO of West Covina is here to help during this time of need. We are Cleaning Experts including for the Coronavirus. We are prepared to clean and disinfect on a large commercial or on a smaller residential scale. To learn more regarding this specialty cleaning service, select About Us and scroll to our Blog dated March 18, 2020 or call our team on standby at 626.960.9145
SERVPRO of West Covina provides 24-hour emergency property damage cleanup and restoration services for both residential and commercial needs. Located in southern California, we are dedicated to being faster to any size disaster. Combined with industry certified training, professional equipment, and over ten years of experience to handle the various disasters that unexpectedly occur. We are here to help our SOCAL community weather the issues are from natural elements such as smoke, soot, fire, board ups of windows and doors, water, slow water leaks or sudden ruptures of pipes, mold, rain or wind damage requiring temporary roof tarping to keep the elements out or an accident requiring a swift response such as a vehicle crashing into a building or a trauma cleanup needing proper protocol to be followed for biohazard disposal. Other local situations may be non emergency but still needing to make use of our specialty cleaning services such as terrible odors, families addressing hoarding issues, pot house / marijuana growers property damages or tear gas damages, etc. Call today for a complimentary visual inspection!
Need Emergency Service? Call Us 24/7 – (626) 960-9145 
Faster to Any Size Emergency
In many cleaning and restoration situations, immediate action is needed. With over 2180 U.S. and Canadian Franchise locations, SERVPRO is strategically positioned to be faster to any size emergency. An immediate response helps to minimize the damage and the cleaning and restoration costs.
Water is particularly invasive, quickly spreading throughout your property and being absorbed into floors, walls, furniture, etc. SERVPRO of West Covina arrives quickly and starts the water extraction process almost immediately.
Water Damage Timeline
Within Minutes
Water quickly spreads throughout your property, saturating everything in its path.
Water is absorbed into walls, floors, upholstery, and belongings.
Furniture finishes may bleed, causing permanent staining on carpets.
Photographs, books, and other paper goods start to swell and warp.
Hours 1 - 24:
Drywall begins to swell and break down.
Metal surfaces begin to tarnish.
Furniture begins to swell and crack.
Dyes and inks from cloth and paper goods spread and stain.
A musty odor appears.
48 Hours to 1 Week:
Mold and mildew may grow and spread.
Doors, windows, and studs swell and warp.
Metal begins to rust and corrode.
Furniture warps and shows signs of mold.
Paint begins to blister.
Wood flooring swells and warps.
Serious biohazard contamination is possible.
More Than 1 Week:
Restoration time and cost increase dramatically; replacing contaminated materials and structural rebuilding may be extensive.
Structural safety, mold growth, and biohazard contaminants pose serious risks to occupants.